Past Projects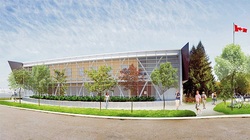 The new HMCS Hunter will be constructed at the site of the Mill Street Marina, located at the end of the Mill Street in Windsor's west end. It will be a military training centre and home to 150 sailors and reservists. The Windsor Port Authority will announce on Wednesday a 60-year lease with the Department of National Defence. Construction is to begin this fall and be complete by 2014.
The HMCS Hunter is currently located at 960 Ouellette Ave. It was originally a grocery store. Ottawa commissioned the building in 1941 during the Second World War.
Construction of the new building was tendered our Friday, confirmed David Cree of the Windsor Port Authority.

Diligent Communications Inc is proud to be part of this project. We installed CareHawk Safety Communications system, Atlas Sound products, Audio Visual equipment including room automation system and surround sound systems.
---
It was decided in 2003 that three older schools were going to be demolished and rebuilt:
Begley
, Benson and Campbell.
Begley
was first and after years of hard work, Campbell was saved, and is currently going a full restoration. Last I heard Benson was on hold. Diligent Communications was please to involve in the project. Diligent Communications Inc installed new PA Intercom system ,
Security System
and Gym Sound System.
Main contractors
Oscar Construction Ltd.
Tucker Electric Ltd.
Talbot Trail Public School
is a
public elementary school in South Windsor
,
Ontario
. Built in 2005 to ease overcrowding at neighboring elementary schools, Talbot Trail is known for being the first of several planned "themed" schools to be built in Ontario, and the school's theme of exploration led it to be honored as one of the Top 25 Schools in Canada by a 2007. As part of construction Diligent Communications Inc is also involved in setting up new PA intercom system,
Security System
and Gym Sound System .
Main Contractors,
Wincon Contruction Ltd.
Tucker Electric Ltd.
Recently Completed Projects